Discounted Cruise With Free Pickup from Your Hotel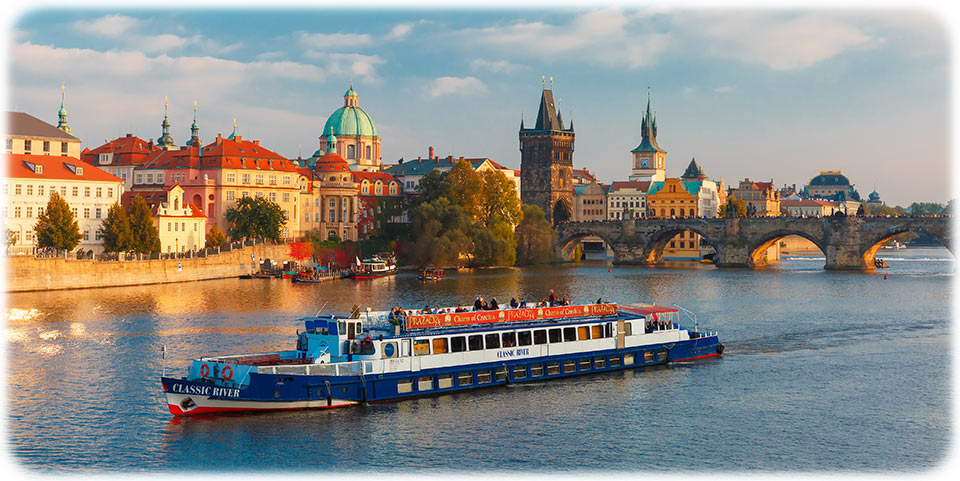 Although Prague is a beautiful city no matter what time of day, it's especially enchanting by night. When the sun goes down, twinkling lights illuminate the city's ancient buildings, which are best seen from the Vltava River running through the city's centre. On our Prague river cruise, you'll travel down the Vltava, passing famous sights like the Charles Bridge, the Lesser Town, the Church of St Nicolas, Prague Castle and the National Theatre – all while enjoying dinner and live music on board. Dinner is a buffet of both hot and cold dishes, and you'll also get a welcome drink included in the cruise price.
Check prices in your currency (EUR, GBP, USD etc.)
CRUISE DATES
CRUISE STARTS
CRUISE FINISH
PRICE PER ADULT
DISCOUNTED PRICE
PRICE PER CHILDREN
(3-10 years)
Daily
6.40 pm
9.40 pm
CZK 980
CZK 590
• Inclusive of: buffet dinner, aperitif, live music and free one-way transfer to the boat from your hotel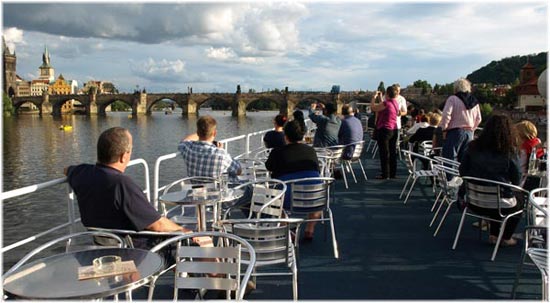 Upon entering the boat you will be welcomed by our hostess who will care for you during the cruise. The hostess does not substitute for a tourist guide; nevertheless, she will provide you with at least basic information on the cruise programme and assist you if you have any inquiries and problems. There will also be professional barkeepers and catering staff looking after you. A dinner cruise is very popular and pleasant, and offers good value for money. If you are looking for a deluxe dinner cruise to celebrate an important anniversary, birthday etc., please bear in mind that these are not luxury cruises such as you may know, for instance, from Paris. In spite of this, we believe that you will enjoy a cruise on a Prague evening, and that this will be a unique experience during your visit.
Cruise Dates / Times
Our Prague boat trips take place every evening at 7pm all year round, except for 24th and 31st December.
Boats Information
Are the boats heated or air-conditioned?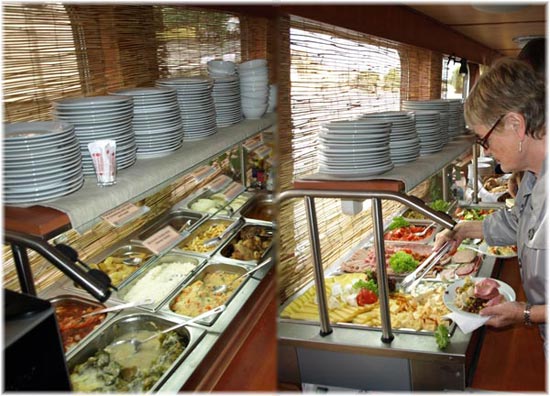 All our Prague boat trips take place on comfortable, well-maintained boats with built in air-conditioning as well as heating, so that you'll be comfortable no matter what the season. You can also sit inside the boat if it's cold, or outside on the deck on warm nights. Most of our cruises take place on the Classic River, Prague's biggest holiday boat that can hold up to 400 people. The boat has been fully refurbished with a stylish wooden pub on the lower deck, and three sunny upper decks that are the perfect vantage point from which to enjoy the sunset.
Do I Need to Pre-book This Cruise?
Yes. Due to our Prague river cruise's popularity as well as the limited places on board, you'll normally need to book in advance. Once you've booked, we'll confirm your reservation within 12 hours. If you need to cancel and want a refund, be sure to inform us at least two hours in advance so you won't be charged any cancellation fees.
How to Get to the Boat Departing Point
When you book, you'll have three options for getting to the pier from where the boat leaves:
1. You can make your own way there.
2. You can meet at the kiosk in central Prague, where a bus will take you to the pier (at no extra charge).
3. You can book a private transfer with us so to pick you up (now included in our special offer – free) and drop you off at your hotel afterwards. We charge CZK 300 one way for up to four people, and CZK 400 one way for parties of between five and eight people.
Boat Departing Location / Pier
The pier from where the boat departs is a 10-minute walk from the Old Town Square, between Čechův Bridge and Štefánikův Bridge, right next to the Intercontinental Hotel. The closest underground station is Staromestska (on line A), while the closest tram station is Pravnicka fakulta (tram no 17). We'll give you more detailed information on transport in your confirmation email after you've booked.
Tour Guide
A tour guide is not included in our Prague river cruise price, but we can arrange one for you at an extra cost. With a tour guide on board, you'll learn interesting facts about the sights you'll pass by boat which will make for a more enriching tour. Alternatively, you can choose to go on our Prague by Night tour, which is fully guided.
It was a great trip. We can't thank you enough. Cruise was definitely the highlight of our stay. I shall recommend it to our friends. Porter, UK
We all enjoyed the cruise very much. Entertainment was lovely and the buffet was really delicious. We found it easy to book and good value too. We will recommend this cruise to our friends and family. Kenilworth Family
Thanks for arranging dinner on the river during our brief stay in your lovely City. Food and live music was very nice. I would recommend this river cruise to anyone as it is such good value. John & Jane, United Kingdom