Our services are not only limited to airports. If you arrive at the Prague train station, you can choose from several of our transfer options to commute between the train station and the city itself.
| Private Transfers | Shared Transfers | Luxury Limousines | How to Find Your Driver at Train Station |
Private Prague Railway Station Transfers
 One way
Group

1 – 4 pers.

Group

5 – 8 pers.

Group

9 – 12 pers.

Group

13 – 16 pers.

Group

17 – 20 pers.

Group

21 – 49pers.

Price
CZK 390
CZK 550
CZK 940
CZK 1100
CZK 1990
CZK 2990
 Vehicle
Sedan or Minibus Upgrade
Minibus
Minibus and Sedan
2x Minibus
Larger Minibus
Coach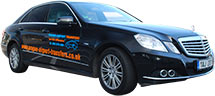 The private railway transfer option is designed for those who want to go directly to the hotel without making any stops and without having to share the ride. The prices are fixed, so you don't have to worry about the staggering charges of metered taxis or the waiting charges due to traffic jams. Regardless of the size of your group, we have enough vehicles to accommodate your needs, including taxis, minivans, minibuses and coaches. The prices quoted are inclusive of VAT. To know more about the process, click here.
Shared Transfers from the Railway Station
Shared shuttle services are not available for the Prague train stations. You can choose from a plethora of our private transfer options, or the luxury limo transfer option.
Transfer Using Limousine
| | | | | | | |
| --- | --- | --- | --- | --- | --- | --- |
|  One way | Mercedes E | Mercedes S | Lincoln TC120 | Ford Excursion | Hummer H200 | Cadillac Escalade |
| Price | CZK 550 | CZK 750 | CZK 1990 | CZK 3900 | CZK 4990 | CZK 4990 |
|  Capacity | Max. 3 pers. | Max. 3 pers. | Max. 8 pers. | Max. 14 pers. | Max. 20 pers. | Max. 20 pers. |
|  Vehicle | Vip Sedan | Vip Sedan | Streched Limo | Streched Limo | Stretched Limo | Stretched Limo |
|  Info | More info | More info | More info |  More info | More info | More info |
If you are the type of person who loves to travel in style, or are planning a surprise for someone in your group, the luxury limousine transfers from any of Prague's train stations is the option you need. The limousine service will be exclusively yours and the price is fixed depending on the size of your group. For further information, click here.
Train Stations in Prague
Prague has four train stations, but most international trains arrive at the Main Railway Station or the Holešovice Station. Let's get acquainted with all the stations.
Praha Hlavní nádraží: Known as the Main Train Station or the Wilson Station, this one is at the centre of the Prague city – a short distance away from the Wenceslas Square. The east-west trains stop here. The main train station is connected to Metro line C.
Praha Holešovice: The station is situated to the north of the city centre. This is where all the trains coming from the north (such as Berlin or Dresden) stop. It is also connected to the Metro C (red line) and three stops away from the main station.
Praha Smíchov: It only takes 15 minutes of Metro ride from the city centre to get to Smíchov, where this small station is situated. It serves trains that are west-bound, and is connected to the Metro B (yellow line).
Masarykovo nádraží: This suburban railway station is at the city centre near náměstí Republiky and Florenc bus terminals, and just a short walk from Wenceslas Square. Trains to and from Kolín, Hradec Králové, and Kutná Hora stop here. This station is connected to the Metro B (yellow line).
Free Upgrade to Larger Vehicles!
If you are travelling with a larger group but have more luggage, regular taxi cabs may not be able to accommodate you, and may even charge extra for the luggage. Even sedans might not be the best option for you. But don't worry, we will upgrade you to a minivan or minibus free of charge, i.e. you still pay the same amount as you would pay for a sedan ride. All you have to do for that is select the "Minivan/minibus – free upgrade" option on the booking form.

The Following Forms of Payment are Acceptable:
Cash on arrival (we accept CZK, GBP, EUR and USD only)
Credit cards (you can make the payment online or pay the chauffeur)
MC, Visa, AMEX, Diner's Club and JCB are acceptable
Bank transfers (for corporate customers)
PayPal
Note that the amount may vary slightly based on the exchange rate if you are paying in a currency other than CZK.