Un precio para todos los hoteles de Praga
Nuestros servicios de traslado desde el aeropuerto de Praga son ideales si no desea compartir un coche o minibús con cualquier otra persona o para aquellos que no quieren esperar demasiado tiempo. Nuestro chofer lo estará esperando en la salida del aeropuerto de Praga para llevarlo a su lugar de destino sin ningún tipo de inconveniente.
Precios de Traslados Privados
 De ida 
Grupo de 1 a 4 pasajeros
Grupo de 5 a 8 pasajeros
Grupo de 9 a 12 pasajeros
Grupo de 13 a 16 pasajeros
Grupo de 17 a 20 pasajeros
Grupo de 21 a 49 pasajeros
Precios
CZK 625
€ 25
CZK 875
€ 34,90
CZK 1500
€ 59,80
CZK 1750
€ 69,70
CZK 2200
€ 87,60
CZK 3250
€ 129,50
Vehículo
Sedán / Minibús
Minibús
Sedán + Minibús
2x Minibús
Minibús más grande
Coche más grande
RESERVE SU SERVICIO DE TRASLADO EN LÍNEA
Beneficios de reservar con antelación
¿Por qué usted debería utilizar nuestro exclusivo servicio de traslado desde el aeropuerto a su hotel, apartamento o destino final?
Usted también puede usar el transporte público o tomar un taxi normal y esperar que no le cobren demasiado.
Por supuesto que usted tiene estas opciones. La elección es suya. Sin embargo, nuestro servicio de traslado privado lo estará esperando para llevarlo a su lugar de destino sin ningún tipo de inconveniente. Nuestro chofer asignado lo va a esperar en la salida del aeropuerto, ya sea si llega antes o después de la hora prevista (verificamos el estado de su vuelo en línea, de manera que sabemos cuándo va a llegar).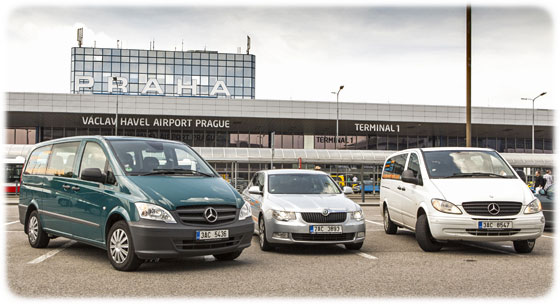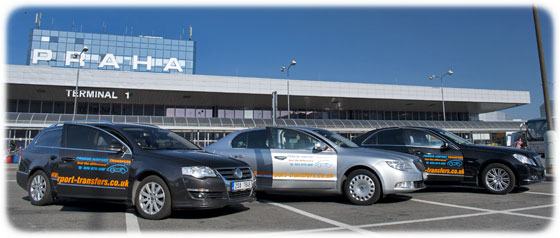 Recomendación para el Caso de un Equipaje Extra
Si usted tiene mucho equipaje y hay 3 o 4 pasajeros en el coche, se recomienda seleccionar "Minivan / Minibús - Actualización gratuita" en su formulario de reserva. De esa manera, usted tendrá que pagar por el cambio que haya realizado (actualización gratuita).
¿Está solo y con un presupuesto ajustado?
Mire nuestras ofertas de traslados compartidos desde el aeropuerto.
Traslado Privado
Aeropuerto de Praga Centro de la ciudad
Tiempo de viaje
---
Transporte Público
Aeropuerto de Praga Centro de la ciudad
Tiempo de traslado
---
Un buen consejo. Muchas personas piensan que los conductores de taxi checos no son muy confiables, en especial desde y hacia el aeropuerto. La solución simple a este inconveniente es reservar y pagar por adelantado sus taxis a través del excelente servicio que ofrece Prague-Airport-Transfers.co.uk.  Fuente: TripAdvisor.com

Acabamos de regresar de nuestra visita a Praga y nos gustaría agradecer a nuestros conductores, quiénes han sido muy puntuales y profesionales, y nos ayudaron con el equipaje hacia y desde el coche. Durante el primer día de nuestro viaje, el conductor nos dio una información muy útil sobre la ciudad y un mapa brillante. La excursión gratuita que ofrecen también es brillante y aprendimos mucho sobre la ciudad y la historia de Praga. Sin duda, recomendaría su empresa como también la excursión fantástica que ofrecen a cualquier persona que quiera visitar Praga.

Sensación de confort similar a un VIP. A la llegada, nuestro conductor estaba esperando en el salón con un cartel de bienvenida. El servicio fue genial, había agua gratuita y una guía de la ciudad. Mi única queja fue con el sistema de reservas. Pensé que había reservado el pasaje de vuelta, pero no había notificación de dicha reserva en la confirmación de cobro. Sin embargo, en nuestra fecha de salida, hubo traslados al aeropuerto de Praga para llevarnos de vuelta a nuestro destino con la máxima seguridad y confort. Definitivamente voy a usar esta compañía de nuevo y la recomiendo totalmente. Ellos están haciendo todo bien

I wanted to write to you, to thank you for the outstanding service we received on our recent holiday to Karlovy Vary. Your drivers are all very fluent in English and make the customer feel at ease and comfortable, happy to talk but never demanding a conversation. I could not be happier with the service we received, particularly the lovely driver who took us from the airport to Grand hotel Pupp and collected us - we were grateful for his easy going nature, and that he was happy to stop for us as the journey was a while. We appreciated the fact he was a very careful driver as the weather was quite icy, and that he put our safety first. I am happy for you to quote me in any way, and will recommend you strongly both on trip advisor and to anyone we know travelling to Prague. We look forward to booking with you again in December 2015.



Hello, we used your services on 14th December 2014. I have just highly recommended your services as excellent on trip advisor, please don't let you standards drop keep providing excellent service and your future will be secure.

Just a quick email to compliment you on your service. On time, with friendly efficient staff providing excellent value for money. I would easily recommend you to anyone visiting the city. Many thanks.

Just made our trip from our hotel to the airport. Thank you for 2 very easy journies. Pleasant driver, fast repies to email queries. I would be happy to recommend your service. Many Thanks

Good evening,

I just wanted to say thank you for the excellent service we received from your company when we visited Prague. Both the drivers were well presented, very polite, helpful and punctual, and the cars were clean and comfortable.

We were very impressed with the professional service and would definitely book with you again. I shall recommend your company to friends and family if they visit Prague.

Thank you very much.

Just back from Prague and we used your services to and from the airport and a river evening trip.

All arrangement were first class....timing, pleasant drivers and contact from the office....texts and emails etc.

Well done and thank you.

Can't find my reference, but it doesn't matter, just good service from you

Hello, I just wanted to commend my driver who was efficient, very polite, knowledgeable and friendly -- and spoke impeccable English of course!  He made my trip into Prague city center very enjoyable le after a hard day. Thank you so much and please thank him; I am sorry I don't remember his name.

Hi,

Just wanted to thank you for a brilliant service, very professional and dependable which meant we were able to relax and enjoy our long weekend.  Thanks again.

Visited Prague-27th Feb 2015 to 2nd March 2015.