Get to your preferred destination – anywhere in Prague – for one price
Traslados Privados
Si usted no quiere correr el riesgo de usar un taxi medido regular (la sobrecarga es común), utilice nuestro servicio de traslado privado con precios fijos.
Leer más
.
Servicio de Transporte Lanzadera Compartido
Los autobuses lanzadera compartidos son una buena opción para aquellos que no están apurados o tienen un presupuesto bajo. Servicio puerta a puerta.
Leer más
.
Limusinas de Lujo
Disfrute de un traslado de lujo en primera clase desde el aeropuerto en una de nuestras limusinas o coches ejecutivos.
Leer más
.
No matter which service you choose to have
Either the shuttle, taxi or limo – you will enjoy plenty of benefits, which will undoubtedly make your stay in Prague both memorable and enjoyable.

Some such benefits are listed below: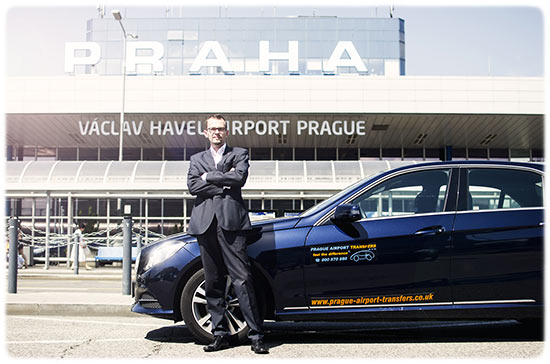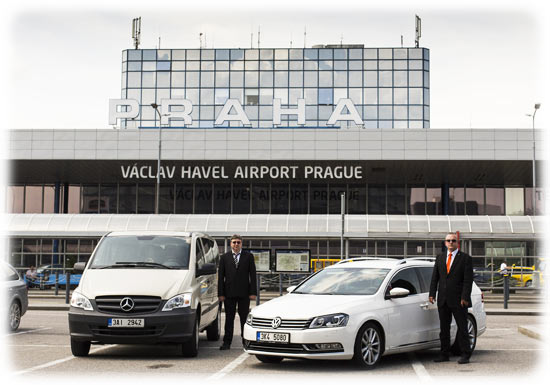 Un buen consejo. Muchas personas piensan que los conductores de taxi checos no son muy confiables, en especial desde y hacia el aeropuerto. La solución simple a este inconveniente es reservar y pagar por adelantado sus taxis a través del excelente servicio que ofrece Prague-Airport-Transfers.co.uk.  Fuente: TripAdvisor.com

Acabamos de regresar de nuestra visita a Praga y nos gustaría agradecer a nuestros conductores, quiénes han sido muy puntuales y profesionales, y nos ayudaron con el equipaje hacia y desde el coche. Durante el primer día de nuestro viaje, el conductor nos dio una información muy útil sobre la ciudad y un mapa brillante. La excursión gratuita que ofrecen también es brillante y aprendimos mucho sobre la ciudad y la historia de Praga. Sin duda, recomendaría su empresa como también la excursión fantástica que ofrecen a cualquier persona que quiera visitar Praga.

Sensación de confort similar a un VIP. A la llegada, nuestro conductor estaba esperando en el salón con un cartel de bienvenida. El servicio fue genial, había agua gratuita y una guía de la ciudad. Mi única queja fue con el sistema de reservas. Pensé que había reservado el pasaje de vuelta, pero no había notificación de dicha reserva en la confirmación de cobro. Sin embargo, en nuestra fecha de salida, hubo traslados al aeropuerto de Praga para llevarnos de vuelta a nuestro destino con la máxima seguridad y confort. Definitivamente voy a usar esta compañía de nuevo y la recomiendo totalmente. Ellos están haciendo todo bien

I wanted to write to you, to thank you for the outstanding service we received on our recent holiday to Karlovy Vary. Your drivers are all very fluent in English and make the customer feel at ease and comfortable, happy to talk but never demanding a conversation. I could not be happier with the service we received, particularly the lovely driver who took us from the airport to Grand hotel Pupp and collected us - we were grateful for his easy going nature, and that he was happy to stop for us as the journey was a while. We appreciated the fact he was a very careful driver as the weather was quite icy, and that he put our safety first. I am happy for you to quote me in any way, and will recommend you strongly both on trip advisor and to anyone we know travelling to Prague. We look forward to booking with you again in December 2015.



Hello, we used your services on 14th December 2014. I have just highly recommended your services as excellent on trip advisor, please don't let you standards drop keep providing excellent service and your future will be secure.

Just a quick email to compliment you on your service. On time, with friendly efficient staff providing excellent value for money. I would easily recommend you to anyone visiting the city. Many thanks.

Just made our trip from our hotel to the airport. Thank you for 2 very easy journies. Pleasant driver, fast repies to email queries. I would be happy to recommend your service. Many Thanks

Good evening,

I just wanted to say thank you for the excellent service we received from your company when we visited Prague. Both the drivers were well presented, very polite, helpful and punctual, and the cars were clean and comfortable.

We were very impressed with the professional service and would definitely book with you again. I shall recommend your company to friends and family if they visit Prague.

Thank you very much.

Just back from Prague and we used your services to and from the airport and a river evening trip.

All arrangement were first class....timing, pleasant drivers and contact from the office....texts and emails etc.

Well done and thank you.

Can't find my reference, but it doesn't matter, just good service from you

Hello, I just wanted to commend my driver who was efficient, very polite, knowledgeable and friendly -- and spoke impeccable English of course!  He made my trip into Prague city center very enjoyable le after a hard day. Thank you so much and please thank him; I am sorry I don't remember his name.

I just wanted to drop you a note to say how fantastic your service has been. We were so delayed on Sunday 22nd Feb by crew problems and then technical problems that I despaired ever reaching Prague. I used the help line number on the e-mail and the lady I spoke to was clear and informative and once we had a new time, she confirmed the Hummer would be there despite the lateness. This was a special treat for my birthday that I had arranged for my guests who were visiting Prague for the first time and to arrive at the airport after the disappointment of the delays to find the Hummer there for them got the holiday off to a great start. Your driver was also excellent and dropped the windows at exactly the right time to give them a magical view of the city. What a way to arrive. Further on the day of departure, when we had to change numbers departing due to someone else's mix up, your help desk sorted us out with an additional vehicle quickly and efficiently. I have to say your service was excellent and I would definitely recommend you to anyone and will undoubtedly use you again. Many thanks for all you help. 

Hi,

Just wanted to thank you for a brilliant service, very professional and dependable which meant we were able to relax and enjoy our long weekend.  Thanks again.

Visited Prague-27th Feb 2015 to 2nd March 2015.

Hi

I just wanted to email to say that I have been extremely thrilled with the services I have received.

A special thank you to Ross the tour leader for the free tour from Sunday.  His knowledge, expertise and enthusiasm was simply amazing and I would have quit gladly paid for that tour because of him.  The weather was against him a little bit but it did not dampen the tour and he went out of his way to make sure we stopped undercover so we could be sheltered from the odd bits of rain (he even gave his umbrella to one of the guests in the group!) I hope he, and his bosses, realise how good he is at his job.

For a free tour I was amazed. I travel a lot and this was by far the most comprehensive and customer led tour I have been on.  Please pass my thanks to Ross and I hope that in some way he is congratulated for the great job he is doing!!  

Thank you, Vicki

Hello, just wanted to let you know that Grand Walk was very good. She was very wonderful and very funny. Would you be able to pass on my thanks to Marta. Marylyn R.

Good Evening. We just arrived home from Prague and would like to take the opportunity to express how much we enjoyed our Superior tour with Petra. Liz E.